"Đầu tư luôn có 1 mức độ rủi ro nhất định. Các nhà đầu tư cần cân nhắc kỹ mức độ rủi ro trước khi ra quyết định đầu tư."

I'm not admin/owner project!!



Started

-

July 29, 2019



Program: HK Online Investment LIMITED About us
HK Online Investment LIMITED is an International Investment Company based in Hong Kong, address: Suite 811, Tsimshatsui Centre, East Wing, 66 Mody Road, Tsimshatsui East, Kowloon, Hong Kong, under Registration No. 2875761. HK Investment Online LIMITED is the 1st International Investment Company that offer a Real Guarantee on your Investment through the Bank Credit Guarantee Fund in the amount of $1,000,000,000.00 ($1 Billion Dollars).
Plans:
MAKE 1.0% TO 1.2% DAILY FOR 200 BUSINESS DAYS
Accept-
Bitcoin,PerfectMoney
Min deposit-
$10
Withdraw-
Manual
Ref.com-
10%-2%-2%
DDOS by-
Cloudflare, Inc
SSL:
hkonlineinvestment.com resolves to 104.26.8.130
Server Type: cloudflare
The certificate should be trusted by all major web browsers (all the correct intermediate certificates are installed)
The certificate will expire in 330 days.
The hostname (hkonlineinvestment.com) is correctly listed in the certificate.
Link to view and register>>>



My deposit: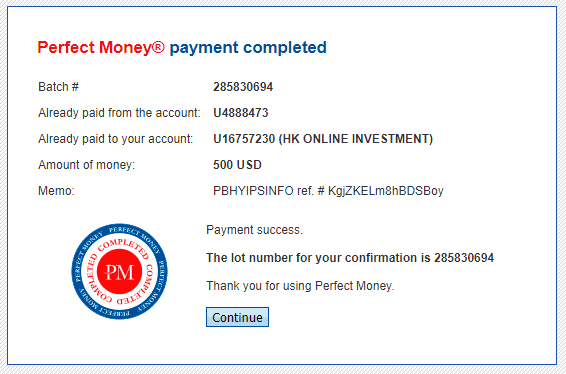 hko
nlineinvestment.com
Last edited: