Joined

Mar 2, 2020
Messages

6
Reactions

6
MR
ITs CORN
Join the Cornucopia of Crypto with ITs CORN
ITs CORN
is not just another meme token for the short term! It's a deflationary meme token with rewards! and an active fun community that celebrates the popular Recess Therapy's original YouTube video "its corn!" that took social media by storm. ITs CORN is a community lead project that encourages participation in shaping the future of ICN through voting and project discussions. Our primary objective is to outperform other meme projects by providing valuable utility and practical real-world applications. We enhance the experience for our dedicated community members through a thoughtful 2% reward tax system, while also incorporating staking capabilities directly into our contract. To ensure the utmost security, we have meticulously deployed the most secure contract to date, incorporating robust anti-rug, anti-whale, and anti-bot functionalities.
CA: 0xa66b9baCA9681C154890AD703dc5e2766d4ec2C1

❖ Project is now live on PancakeSwap and Dexview trading as of the 2nd of August, rising to 32.98% by the 4th then rose again after a dip up to 69.74%.

❖ We have 30% total supply in liquidity and 15% locked with dxsale. Our LP is locked for 1K days.

❖ We have staking built into our contract and will soon be turned on to give our holders the opportunity to earn passive rewards.

❖ We have a strong TG community with over 800 members and a Twitter following of 19.1 k. We strive for a very successful meme token project.

❖ Some of our initiatives are rewarding our holders through our rewards tax system and running regular competitions through tg.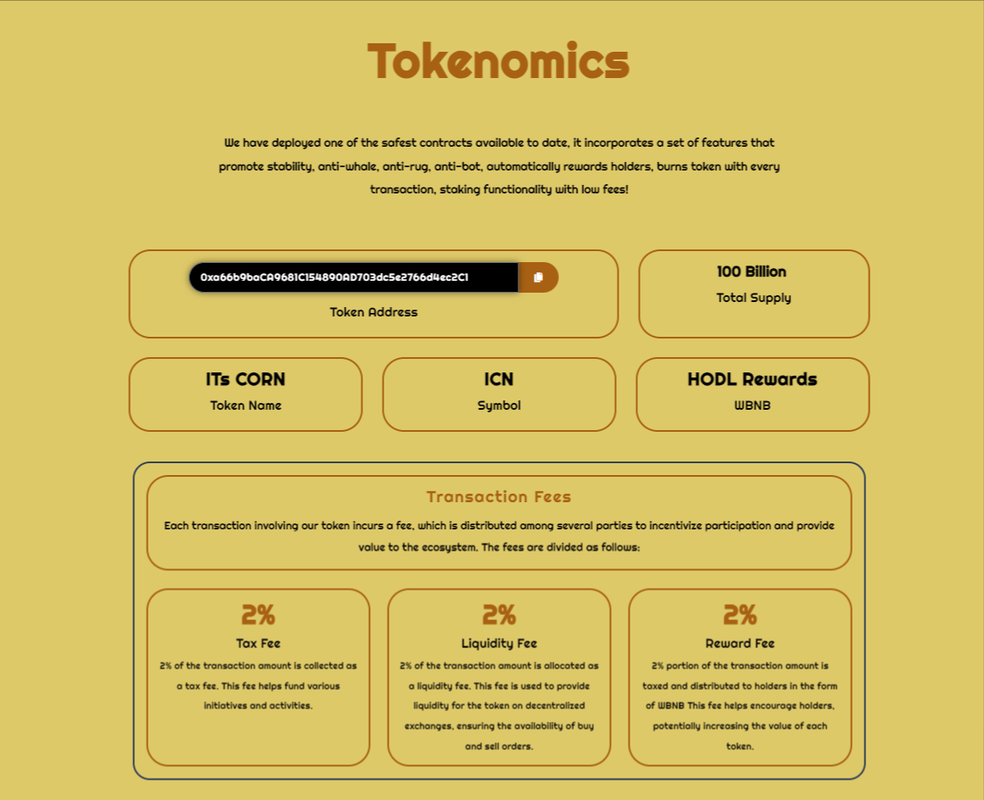 Website: https://itscorntoken.com/

Telegram: https://t.me/ItsCornToken

Twitter: https://twitter.com/ITS_CORN_TOKEN
​