Joined

Mar 2, 2020
Messages

6
Reactions

6
MR
CRYPTONAIRE WEEKLY MAGAZINE 232ND EDITION IS OUT NOW

The #1 CRYPTO TRADING MAGAZINE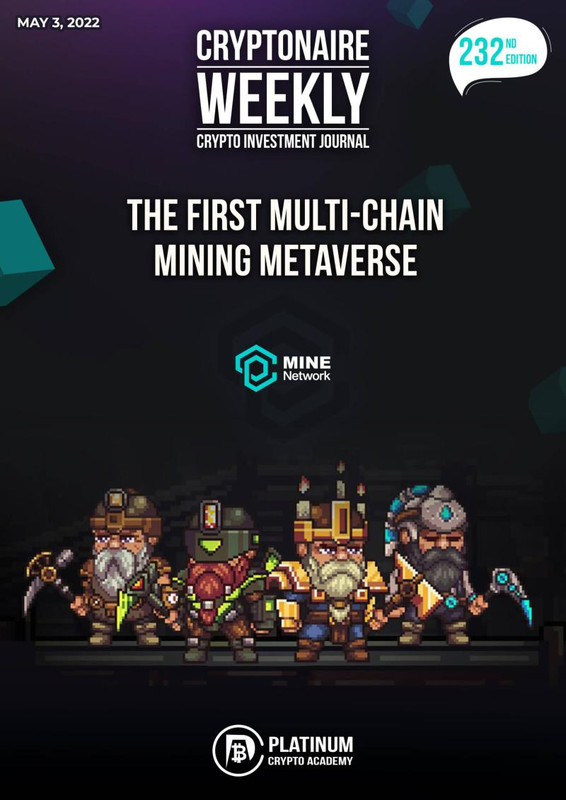 ❖ 232nd Latest Crypto News Digital Magazine
​
Bitcoin ended April on a sombre note with a decline of more than 17%. Bitcoin was not the only asset class that faced drubbing in April, the Nasdaq Composite plunged
13.3% recording its worst monthly performance since October 2008. The S&P 500 had its worst performance since March 2020 as it fell 8.8%.
During Berkshire Hathway's annual shareholders' meeting, Warren Buffet and Charlie Munger doubled down on their criticism of Bitcoin. Buffet said he would not buy all the Bitcoin in the world even if it was offered to him for $25 because according to him, it does not "produce anything" unlike rental property or farmland. Munger went a step ahead and said that Bitcoin is "still likely to go to zero."
We had suggested in our previous analysis that the 20-day exponential moving average (EMA) will act as a resistance and that is what happened. Bitcoin turned down from the 20-day EMA on April 28 and dropped near the strong support at $37,000 on May 1.
The bulls bought the dip but the recovery continues to face selling near the 20-day EMA. If bulls fail to clear this hurdle quickly, the possibility of a drop below $37,000 increases. If that happens, the selling could pick up momentum and the BTC/USD pair could plummet to $34,322 and later to $32,933.
While the downsloping 20-day EMA signals advantage to bears, the positive divergence on the relative strength index (RSI) suggests that the bearish momentum may be losing steam.
The first sign of strength will be a break and close above the 20-day EMA. If that happens, the pair could rally to the 50-day simple moving average (SMA) where the bears may again pose a stiff challenge. The bulls will have to clear this hurdle to indicate that the selling pressure has reduced.
Lastly please check out the advancement's happening in the cryptocurrency world.
Enjoy the issue!
Featuring in this weeks Edition:

- Mine Netoork

- SmartChem (SMAC)

- AppZaloot

- Yieldchain

- Nunu Spirits

- Loop Ventures

- Ernest in Disguise

- PlutusFi

- ZiberBugs

- CleanCarbon

- Have NFT
Read More
CRYPTO TRADE OPPORTUNITIES
Coinbase CEO Predicts One Billion Crypto Users Within a Decade
EU commissioner calls for global coordination on crypto regulation
Germany is the number one tax haven for crypto investors with 0% tax rates
VeChain (VET) Now Accepted As Payment in 2,000,000 Stores Worldwide Thanks to New Partnership
SMAC Token – Fundamental & Technical Analysis
MINE Network Introduces Its P2E Mining Game MINEverse
Yieldchain – Just Opened Their Pre-seed Sale
Nunu Introduces Nunu Sanctuary, Players' Home Base
Loop Ventures Revolutionizes Blockchain Innovation: Loop Ventures Incubator Open for Applications
Ernest Comics Nexus: Welcome to our Launch Presentation
PlutusFi Goes Live: Set to Empower Crypto Businesses, Influencers and Enthusiasts
ZiberBugs: An Innovative PvP Autobattler Model Powered by Blockchain Technology
CleanCarbon: Innovative Waste-to-Energy Project Based on Blockchain

#MineNetoork #SmartChem(SMAC) #AppZaloot #Yieldchain #NunuSpirits #LoopVentures #ErnestinDisguise #PlutusFi #ZiberBugs #CleanCarbon #HaveNFT #CryptonaireWeekly #platinumcryptoacademy #Binance #Bitcoin #Ethereum #Ripple #Litecoin #Ecosystem #DayTrading #BTC #digitalcurrency #digitalcurrencymarket #DayTrading #Cryptocurrencyexchanges #digitalexchange

CW - Website Work
​