Zcash Click Bot is one part of the Click Bot family and it's still paying the earned coins
check out my whole review:
www.geld-help.info/en/crypto/btc-click-bot-telegram
Very low payout limit and low fees characterize this bot.
Earn daily Crypto coins with just a few clicks on your smartphone. All the day long are new tasks available and so your are able to fill your own wallet with some Zcash coins very fast. There are also other bots with different currencies available.
What is the BTC (Doge/ZEC/LTC/BCH) Click Bot?​
One of the best Telegram bots out there with low fees and a very low withdrawl limit.
A Telgeram advertising bot, earn coins while you do very simple tasks like visiting websites, Join Telegram groups or try out other bots. The bot is available in five versions for Doge (Doge Coin), ZEC (Zcash), BCH (Bitcoin Cash), LTC (Litecoin) and BTC (Bitcoin).
Register link for Zcash_click_bot: https://t.me/Zcash_click_bot?start=KN4C

Pro:
- new tasks are always available
- five different crypto currencies
- in groups or channels you only have to stay for a few hours
- Withdrawl even for very small amounts
- Payout to all wallets
- low fees
- very reliable
Cons:
- only three different types of tasks
- the earnings are only displayed after the task was done
Operation of the Doge Click Bot:​
This bot is very easy to understand and self-explained.
After starting the bot with "/start" every step is clearly explained in English.
the main menu.

In principle, very simple and understandable.
IMPORTANT:
This note is for all Telegram bots: please pay attention to the offered advertisements! EVERY user can easily place ads, so there is a lot of rubbish and scam in the content.
A payout in the past is not a guarantee of a payout in the future! Many bots are simply discontinued, if they become unprofitable for the operator.
Doge Click Bot withdrawals:​
The payout minimum is very low in all kinds of this bot (3 Doge / 0.00035 ZEC / 0.0004 LTC / 0.0001 BCH / 0.00003 BTC (3,000 satoshi)) and is credited to the wallet within a few minutes or the next day, depending on the crypto currency. Around. 0.01 Euro (Since crypto currencies are constantly moving in price, an exact specification is not possible) you will reach the payout minimum, within a very short time (around 1-2 days).
The fees are specified with the currency, Doge Coin had until September 2020 no fee, but now there is also a fee for Doge. For ZEC, BCH and LTC fees are very low only BTC has a bit high fees.
proof of payment ZEC Click Bot: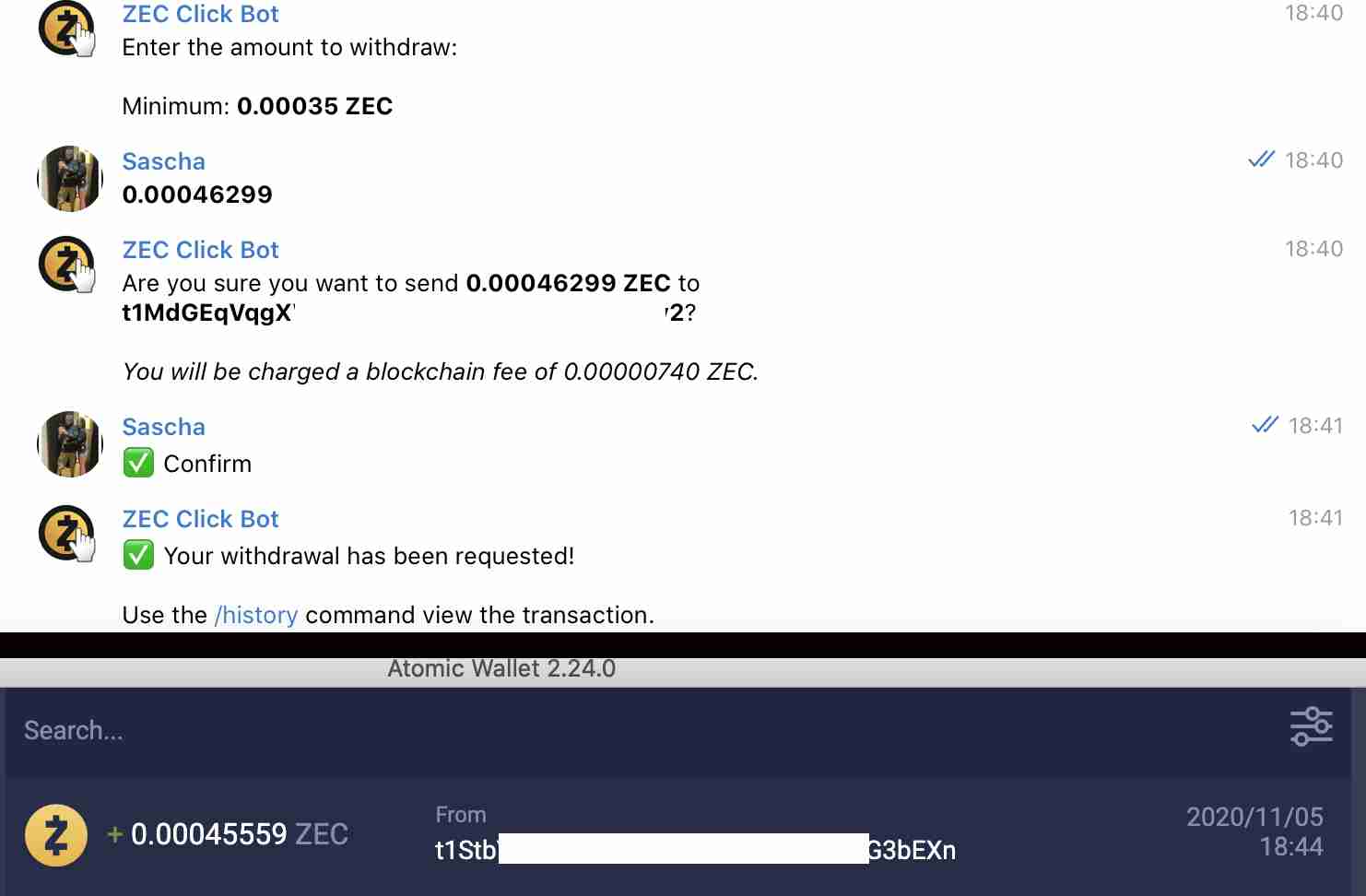 Tips for the Doge Click Bot:​
during visiting websites you should stay 10 Seconds on that site, if 2 If different bots are open, you can switch between them to earn from both bots during your 10 seconds wait 2 ..
Joining channels or groups, delete them after the specified time was running out or use a second SIM card, otherwise Telegram is full of many different groups, which you probably don't want.
The first 2-3 Tasks every few hours always provide a much higher reward. You also have a simple bonus system (this applies to all five bots, that means. you got 50% achieved at Doge, do you have this at ZEC etc.). This reward system goes up to a bonus +50% and to got the bonus you need to completed at least three tasks every 24 hours and the bonus will grow 2% up. If the daily task chain is interrupted, the bonus will fall back to 0%
in the case that you want to try one of the other click bot family bots:
Sign up link Doge:
https://t.me/Dogecoin_click_bot?start=oxTg
Sing up link BCH:
https://t.me/BCH_clickbot?start=Qmip
Sign up link LTC:
https://t.me/Litecoin_click_bot?start = eU0J
Sign up link BTC:
https://t.me/BitcoinClick_bot?start=COmM