BChat Web3 Messenger

-
BChat là một trình nhắn tin cá nhân phi tập trung được xây dựng trên mạng Beldex. Bạn có thể gửi tin nhắn thực sự ẩn danh với BChat và thanh toán cho bạn bè của bạn bằng BDX
Link tham gia: https://wn.nr/Jv5yLH
Quy tắc của airdrop
Tải xuống BChat từ Google PlayStore hoặc AppStore miễn phí:
Send truly private messages with the BChat privacy messenger. Chat with freedom.
play.google.com
Gửi ID BChat của bạn
Theo dõi @BChat_official trên Twitter
Tweet bằng #LetsBChat trên Twitter
Gửi địa chỉ ví BDX của bạn từ BChat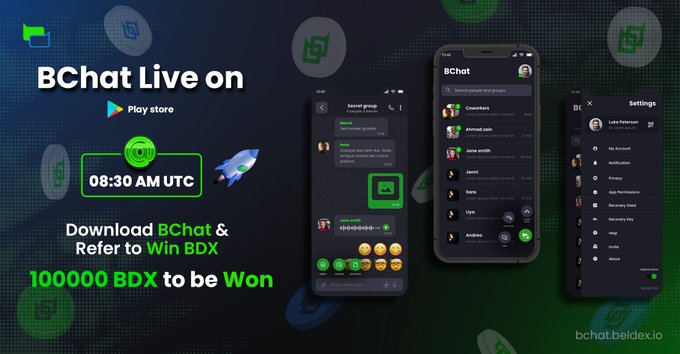 Theo dõi channel để nhận thông tin airdrop:
#Airdrop, #Bounty, #NFTGame, #Metaverse, #BSC, #DeFi, #Solana, #Polygon, #GameFi, #Binance, #Coin, #Token, #GoToMoon, #DogeRaca, #BTC, #ETH...
t.me